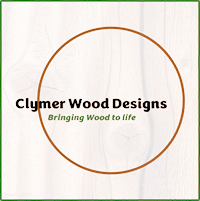 On this page I share my love for creating with wood. I added this "Woodworking" page to my website to illustrate another side of my reality. One of the good things about retirement – I have found more time to pursue this"hankering" to get out my tools and make sawdust!
Below, on this page, you will see an assortment of projects I've completed in the recent past.
Here's a bit of a humorous aside to my enthusiasm for wood... When you offer a friend a hand-turned pen as a gift and they roll their eyes, you know it's time to find another outlet for your creativity! In my case, I had enough encouragement from family and friends, I decided to open an Etsy shop.
If you'd like to see the current items for sale, please visit: Clymer Wood Designs
I should add: If you see anything here, or in my Etsy Shop that excites you, but perhaps you'd like another wood type, size, etc., I am at your service. Custom work / special orders energize me! Please contact me through my Etsy Shop.
You may return to the WS6X starting page by clicking WS6X Home.
Being Creative With Wood
I have been a hobby style woodworker for many years, but more recently began wood turning. I try to use local, salvaged wood whenever possible. Often this involves trees that were damaged in storms, naturally fallen, or the owner simply wanted a tree removed. So where does this love of wood come from? I think I was born with woodworking genes.
My mother came from a family of craftsmen — her father, uncles and her brother were all skilled woodworkers. As a child I was utterly fascinated with their workbenches and toolboxes. When I was about 8, my dad gave me a small Craftsman jig saw. Thus began my "career" of bird houses, bookends, and decorative corner shelves.
The summer I was 16 I got a job in a custom kitchen cabinet shop. My job was sanding doors. I finish-sanded every door that left the shop that summer! Back then, nobody realized that sawdust was bad for the lungs! Where was OSHA when I needed them?
Through the years I've always had a woodshop with a small selection of hand and power tools. I never did anything professional, but just loved to "piddle" around with small wood projects. Now in retirement, I keep myself busy with small woodworking projects: keepsake boxes, wooden barn quilts, and other wall hangings.
As a wood turner, I enjoy turning bowls, pens and boxes from common and exotic woods.
One of the painful aspects of woodturning is seeing such a large part of a beautiful piece of wood end up on the floor as shavings. The photo below is an example. This pile of shavings came from the hollowed out section of a small Red Oak wood box.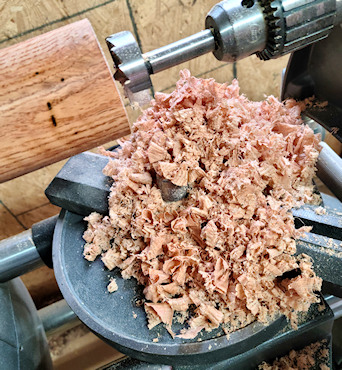 Here's an example of the process from raw materials to finished product. I turned three small boxes from this chunk of Red Oak firewood.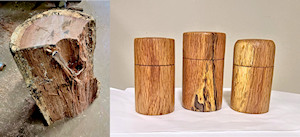 Clymer Wood Designs
Samples of my work
Keepsake Boxes:
Left – Inexpensive Pine box with Walnut veneer top, Red Oak splines
Left Center – Beautiful Cherry Box with Maple top and Poplar splines
Right Center – Turned Small Cherry Box
Right – Turned Small Ambrosia Maple Box
Stem Vases:
Left – Box Elder Stem Vase
Center – Stem Vase made from Apple Wood
Right – Another Apple Wood Stem Vase
Wall Hangings:
Left – Wooden Barn Quilt – available in many patterns
Right – Arrangement of Tree Slices
Seasonal – Wreaths, Candle Holders...:
Left – Fall / Harvest wreath made of tree slices; available with Christmas theme
Right – Christmas Tea light Candle Holder; available in single, double
Miscellaneous...
Left – Solid Cherry Mantle Clock
Right – Pen turned from Ambrosia Maple
| | | |
| --- | --- | --- |
| | Makes a tremendous Christmas gift! | |
You may return to the WS6X starting page by clicking WS6X Home.
---
Copyright © 2006-2023, Jim Clymer, Jr.