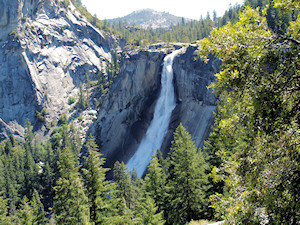 Thanks for Visiting my Photography Page
On this page I will share a small selection of some of my favorite moments in nature.
Besides being a hobby, one of my "sidelines" for many years was photography. During my years in Indiana I did professional product photography, portraiture, and for eight years did wedding photography. I had a full color darkroom, and for several years did private tutoring for advanced students from a small college in the town where I lived.
In the 34 years in California I spent many hours in the Sierras, and along the Central Coast. I was privileged to experience some of Nature's best photographic opportunities.
If you'd like to see more of my work, please visit my Flickr Site.
You may return to the WS6X starting page by clicking WS6X Home.
Clymer Photography
Examples of my work
Mountains:
Top:
Left – Colorado Rockies, Mt. Princeton, near Buena Vista
Right – Yosemite National Park, Cloud's Rest in the distance, from the John Muir Trail
Bottom:
Left – Mt. Lassen, Lassen Volcanic National Park
Right – Shenandoah National Park
Left –
Right –
Sunset / Sunrise:
Top:
Left – SS, Mayne Island, BC
Center – SS, Shenandoah Valley, VA
Right – SR, Rockingham, VA
Bottom:
Left – SS, West Yosemite
Right – SR, Rockingham, VA
Seascapes:
Left – Pacific Coast near Point Buchon
Right – Mt. Baker, viewed from Mayne Island across the Strait of Georgia
---
Copyright © 2006-2023, Jim Clymer, Jr.