With Lots of Staying Power
This article was originally written for SKIP, the monthly newsletter of the Fresno Amateur Radio Club (FARC). Thus the references to "W6TO", "Club Members", etc.
Building A 12 V Emergency Power Supply
Since the early 70s I have been experimenting with various alternative energy, or energy-saving technologies. In the bitter cold of northern Indiana I used a whole-house central heating system based on a wood-burning furnace. I built a solar domestic water heating system using closed loop, active collectors. In California I was an early convert to using pelletized fuel stoves to heat my house. In 1986 I installed a sun-tracking solar water heating system, and for the past six years have enjoyed thumbing my nose at the energy moguls with a grid-tied, 2.7 kW photovoltaic electricity generating system.
Several years ago, while designing a plan for powering a small ham station during power outages, I purchased a 1200 peak Amp "Jump Start" system that uses a small gel cell battery (Harbor Freight Item # 40615). With the addition of several output connectors, and a solar charging input, I had a very portable emergency power supply. I was pleasantly surprised to find that the fully charged little box would "hold" a 100 Watt IC-706 for several hours. Many of you have seen the "yellow box" with the 7.5 Watt solar panel that was used to earn the Natural Power Bonus Points for the past 8 years at W6TO Field Day.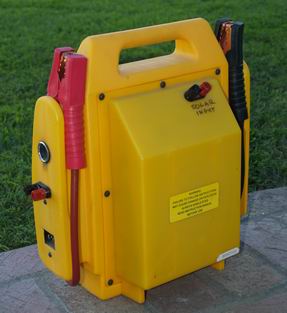 Photo of modified "JumpStart system". You can see the added connectors; one, a solar charging input and a dual binding post output.
More recently I began plans for taking a significant part of my ham station off the grid. Central to the plan was to upgrade the yellow box with a much more heavy duty battery, and to add additional solar charging power. A most important design prerequisite was the system had to be reasonably portable (for on-site emergency use), and needed to be outfitted with standardized connectors so that plug n' play compatibility was built in. Oh yes, this thing could not cost an arm and a leg!
After considerable research, I settled on a Group 27 deep cycle battery with a 20-Hr. 115 Ah rating ($76 at Wal-Mart) and a 45 Watt photovoltaic solar system ($200 at Harbor Freight, including a charge regulator and steel mounting frame). I added a plastic battery box, wire, terminals, misc. hardware and a hand full of appropriate connectors ($20), and I now have a very efficient, off-grid power supply that will shortly be powering 80% of my station accessories, plus one HF radio.
Given that this power supply will provide 70 Watts, key down, for 20 hours, I thought perhaps others in the club might be interested in the project. What you see in the accompanying photo is the finished "battery box" with charge input terminals (1/4-20 hardware with wing nuts) and DC outputs consisting of hi-current dual binding posts, 30-A Power Poles, and a cigarette lighter socket. Best of all, you can throw this beauty together for less than $100! NOTE: Several months after this article was written, I added a second, duplicate storage battery. I now have enough capacity to keep a modest station on the air for an entire weekend.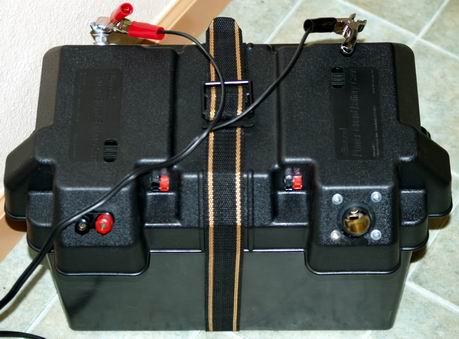 In the photo you can see the battery input charging lugs (top, rear). The output connectors include a pair of Anderson PowerPoles, dual binding posts, and cigar lighter. In the field, this combo will mate with essentially any power configuration.
There may be those who would like to build an emergency supply but are not interested in the solar charging system. Here is a word of advice. It is a VERY good idea to keep your storage batteries charged. Before you spend a bundle on an expensive automotive type battery charger, consider that a simple float charger ($13 at Harbor Freight) will keep the battery "topped off" and ready to roll. My preference is the Schauer Charge Master ($25 at Pacific Battery). This little gem uses a sophisticated hi-frequency pulsing technology that can revive "dead" batteries - even those that were discharged to less than 10.5 V.
I would be happy to assist (answer questions) any club member who is interested in building this nifty emergency 12 V supply. Enjoy!
Questions?
As always, if you have any questions about ham radio, please drop me an email: Jim - WS6X. I would be honored to help in any way I can. I may even be able to help locate a ham radio operator near you, so you could get a first-hand look!
I'd also love to hear your comments about this site: Comments & Feedback.
---
Copyright © 2006-2022, Jim Clymer, Jr.